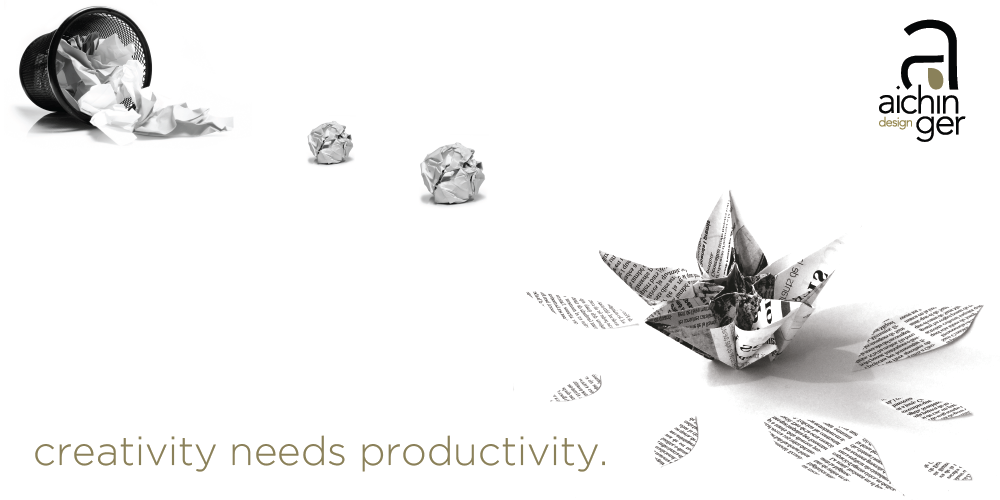 Aichinger Design Studio provides a complete range of products for the Internet and print media, carries out research, and defines strategies for the best design of your brand and company. Within the studio we offer print preparation, web design, branding, as well as corporate design, illustrations and photography. We sketch, re-examine the conceptual solution and concepts, and with frequent communication with clients, we come to the final solution with honest and benevolent criticism.
For consultation and any additional information, please contact us here.
To see our online portfolio click below.
Corporate Identity & Branding

We will help you to position your brand above the competition, with a new design or refreshment of an existing one. We will divulge your complete corporate identity - original and authentic to the last detail, from the development or redesign of your logo to the full design of your product and all accompanying promotional materials.

Print

We offer invitations, flyers, leaflets, catalogues, brochures, posters, business cards, memorandums and other printed materials, whether in small or large circulation, from concept and idea, through design and realization to finalization and prepress, always leading with the highest quality standard in mind.
Illustration

We do several different styles of illustration, and depending on the requirements and style of the brand, we can offer you a wide range - from traditional hand drawn, through technical drawings and photomontage to contemporary vector illustrations.

Web

Whether you want a brand new website or to maintain and improve an existing one, we can help you. Using the latest technologies, we will design a web site that is attractive and convenient to use, suitable for mobile, as well as other gadgets, tailored to your specific business needs.
For your special occasion:
| | | |
| --- | --- | --- |
| Invitations | Name Cards | Wedding Tree |
| | | |
| --- | --- | --- |
| Menu & Name Cards | Labels | Invitations |
| | | |
| --- | --- | --- |
| Guest Book | Invitations | Menu & Name cards |
| | | |
| --- | --- | --- |
| Hand-Made Memory Tree | Invitations | Seat Plan |
© aichinger design studio 2017
Andiesen 15, A-4774 St. Marienkirchen | office@a-a.co.at | +43.664.130.1946
No part of this publication may be reproduced, stored or transmitted without prior permission. The entire contents, artwork and design are intellectual property of Ana Aichinger & aichinger design studio. Ohne Erlaubnis und entsprechende Angaben ist das Kopieren, Reproduzieren, Veroeffentlichen und Weiterverbreiten der Inhalte verboten. Die Gesamtheit des Inhalts und Design sind geistiges Eigentum der Ana Aichinger & aichinger design studio.